How to Progress in a Gamedev Career – Stories and Tips
Hi everyone!

Much is said about starting a career in the games industry but there are few lifehacks for those who have already joined the game dev world and want to grow efficiently. 
Leaving behind well-spread advice from the internet, we are here to share insights proven by our team members.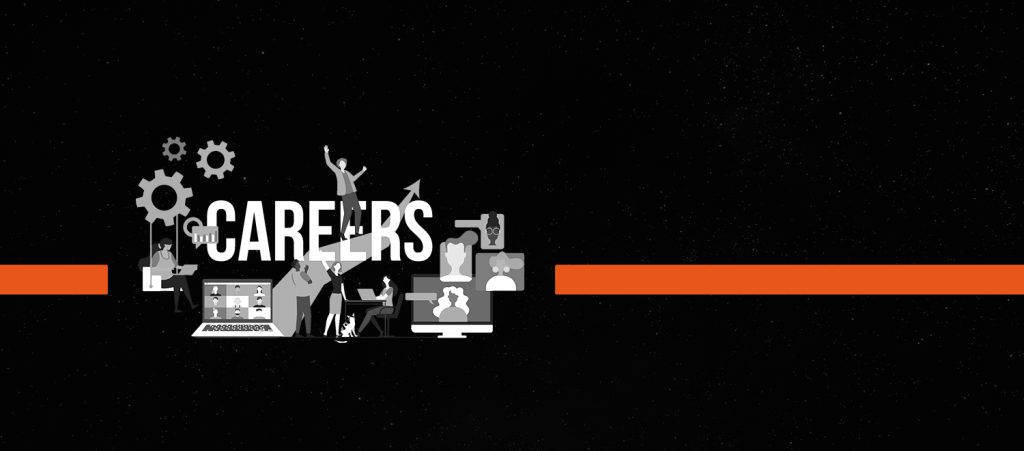 Before we start, we'd like to remind you all that we have many open job opportunities for people who already have experience in game dev: check them out in the Careers section!
Now, fasten your seatbelts and prepare for another cosmic journey toward career success and inspiration!
Story #1: VFX Artist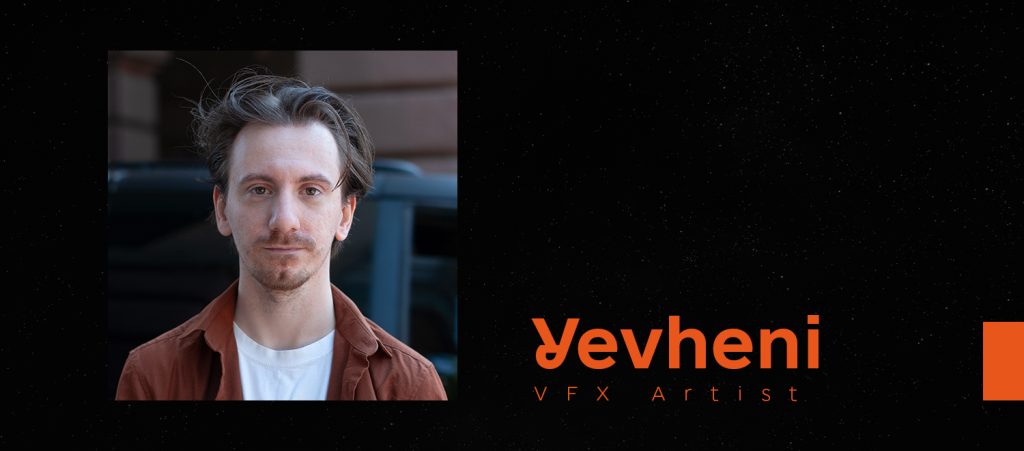 Yevheni, a VFX Artist, has worked with us for almost a year and can share some unusual advice. It's really creative (which we encourage much at VG Entertainment) but might not suit everyone, however, for some professions, this works very well! Here are the details of Yevheni's career journey:
"My game development journey began in 2020 when a friend of mine, a programmer, suggested we explore the world of mobile casual games together. I explored various roles during this journey, delving into my prior hobby of composing music. I took on the tasks of crafting the game's visual style, creating 3D models, crafting game rules, and strategizing monetization approaches, and I knew absolutely nothing about all this! Also, we used Unity, which I'd rather avoid discussing in 2023. 😀
Even though we didn't succeed at once, our fascination with game dev never left us. I dove into the world of software, grabbing every tool I could find and looking for online courses that could help me develop. I believe it's completely normal when you try to find your true passion. Eventually, I stuck to VFX effects. As for this field in general, it's incredibly thrilling. Entire virtual worlds come to life, and it's something cinema can't do for sure.
First and foremost tip to people who want to progress quickly: Start with simple projects!
Next, it's essential to move from the initial stage of replicating others' work to the next phase — creating and applying your own ideas, breaking free from following tutorials.
Also, leverage all the resources you can to master effects:
The best ones are of course the

Real-time VFX

website and its Discord.

Twitter

(I mean X) has a friendly community where you can both find a bunch of tips and just enjoy cool artwork.

YouTube

– no comments, as everything can be found here!

Paid courses

are also a good opportunity to start learning anything. Just remember, spending money doesn't automatically put you ahead of those who learn from free YouTube videos. However, in my view, simply taking courses isn't sufficient. Completion only allows you to replicate what was taught in those.
I'd also suggest that anyone pursuing a career in VFX should define their favorite style of work. Craft a portfolio aligned with the type of projects you want to work on. If you'd like to contribute to mobile 2D casual games, dedicating long hours to mastering complex explosion simulations in Houdini or Embergen is senseless. In this case, it is better to take a graphic tablet and try creating flipbooks.
I'd like to repeat that you won't truly grasp it until you give it a go! So, take the first step and dive into action instead of just thinking about your preferences and goals.
I enhanced my knowledge in the way I outlined earlier. However, everyone's journey becomes unique eventually. What's effortless for one person might be challenging for another. You'll pinpoint where you need to focus."
Story #2: Level Designer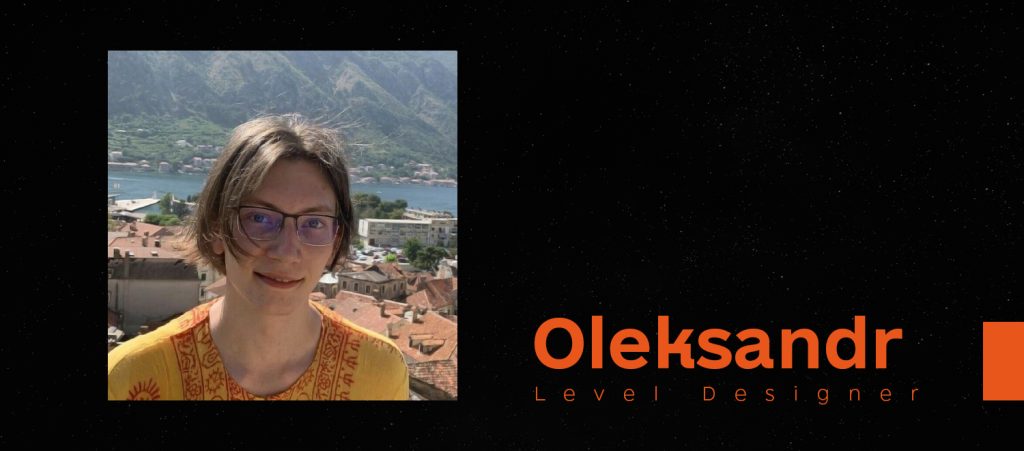 Oleksandr joined our team in 2022 as a Level Designer. He already had eight months of experience in the field but, as he says, he did his first blockout as a test assignment. Since then he's been successfully dealing with such tasks at our studio.
Here's Oleksandr's story: "This January, it will be four years since I started my career in game development, and this is not my first job in this field. Initially, I began as a QA Engineer and held that position for two years. During the last six months of these two years, I've been trying to switch to game design. I acquired some knowledge from open documentation at work, thoroughly exploring documents and presentations for future major titles. However, I struggled to apply all this knowledge and work with game engines due to the limitations of the hardware I used at that time.
My deep dive into Unreal Engine only occurred in my last job, but my experience was limited to exploring its interface and basic functionalities. When it came to mastering more complex features, I watched tutorials on YouTube in my leisure time and also googled a lot. In my previous job, hands-on experience with game engines wasn't a requirement, so I basically learned it on the go. Eventually, I acquired a high-performance laptop for remote work and fully immersed myself in working with Unreal Engine. All this allowed me to master the software.
Also, I primarily learned blueprints from YouTube tutorials and later strengthened my knowledge with a Udemy course. However, most of it came from practice. Initially, I wasn't involved in blueprint creation but studied and locally edited existing ones. Despite holding a Game/Level Designer position, my responsibilities leaned more towards artistic work, including map layout, final visual presentations, asset arrangement for environments like cities and forests, painting and sculpting landscapes, and technical fine-tuning of maps within the engine's internal extensions.
I came across a Level Designer job opportunity at VG Entertainment (Vostok Games at that time) during my work as a QA specialist. The position had been listed on their website for quite a lengthy period, and I was closely monitoring the job market for suitable openings. Interestingly, while starting my role at the previous company, I noticed that one of my connections on LinkedIn had been hired for this role. He is my present colleague now. 🙂 I sought advice from him on the requirements for this position. However, it took some time for me to gather the courage to apply.
In the process, I learned a lot from the test assignment itself, drawing inspiration from existing games and portfolios of industry professionals – there are many blockouts and 3D models on the internet. I also studied test tasks from various companies, often searching for them online or requesting recruiters to share them.
My test task was approved, but that didn't mean I stopped there. I continued my active learning after receiving the job offer. To be honest, I wasn't super experienced in the level design of similar projects. It was only at VG Entertainment that I became familiar with the complete level building pipeline and made full use of blueprints in my work.
After accepting the offer here and awaiting the start of work, I decided to take part in the Epic Game Jam. It's a great opportunity to develop skills. Even if you're not familiar with certain aspects, you'll learn along the way. I reached out to people on Telegram chats to join me, so we formed a team by inviting acquaintances. While we didn't win any prizes, working on our own project was fascinating.
The first person who contacted me had excellent skills in Unreal Engine and programming. Andrii was also familiar with 3D design and VFX, he created some models and could write sounds for games. Surprisingly, he was unemployed despite having released an indie game on Steam, entirely made by himself. During the Epic Game Jam, he handled a plethora of tasks, that truly impressed me, so we kept in touch. Later, I recommended him for a job opening at VG Entertainment he was interested in. Now it's been nearly a year since Andrii joined our team. By the way, there's now a bonus system in place that rewards successful recommendations. I wish we had this when I was recommending my friends 🙂
So, learning on the go presents great opportunities but also comes with numerous challenges in such a career journey. Some tasks can be complex and time-consuming, as one must understand and apply them immediately. Even now, I encounter difficulties in mastering certain aspects occasionally. However, a year at VG Entertainment gave me a clearer view of game production, which has always been my passion. I got a handful of knowledge specific to my field while working here. I must highlight the contribution of the team – members offer insights from their own game dev experiences. All this is super helpful, still, I continue self-education, dedicating my free time to delving deeper into the subject, studying works of industry professionals, and exploring levels in games."
Story #3: 3D Animator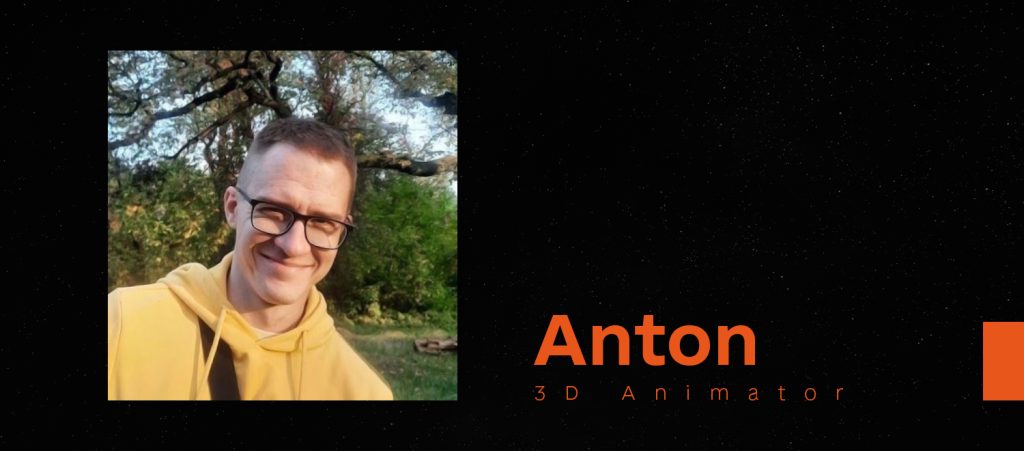 Anton also joined the crew in 2022 with an 11-year background in mobile games. Now he is a 3D Animator at our studio and we can tell that he has grown during our cooperation.
We say no more and let Anton tell his career story:
"I've always had a passion for video games and graphics software, even dating back to my childhood. I entered the industry as an artist for pixel games for old phones when animation was crafted frame by frame and characters were made of pixels. Later, I uploaded my work on a freelance platform, where one startup founder noticed me. During my 11-year cooperation with that company, I progressed from pixel graphics to creating games in a cartoon style. Next, I transitioned into 3D modeling, texturing, and animation. I learned on my own, however, the company director encouraged and supported me.
By the last project, a classic mobile RTS game similar to Warcraft, I focused solely on animation, and it felt like hitting the bullseye. Shifting from monotonous modeling to animating moving objects was a breath of fresh air. Initially, 3D animation was a new world for me. Characters appeared flat and dull, I had to do lots of fixes. However, with time, I honed my skills, and my passion for games and strong observation skills were very helpful. As the sole animator on the team, I learned from my own mistakes. Yet, I believe that the help of an experienced mentor and specialized courses would have significantly enhanced my progress.
By that time, I was already getting a bit tired of being stuck in one place within the mobile games world. I came up with solid ideas for animations that I could use for my portfolio while looking for a new job. I wanted to progress and work in realism. Consequently, I joined the VG Entertainment team, and with the guidance of our team lead, swiftly adapted to the new conditions.
I'd say that

enrolling in good courses

proves most beneficial for efficient growth. These often come with teachers and a large community, ready to answer your questions and troubleshoot.




Simple questions often escalate into challenges due to unfamiliarity with tools and lack of experience. You may find yourself stuck at work, attempting to grasp the correct rigging for a character's arms with a weapon, streamlining controls, or fixing character constraints.

Ultimately, it's about finding the right buttons to press to make everything work the way you want. Special cases can easily be addressed by a mentor or an experienced animator, whereas independent online searches might be inefficient.

Moreover,

mentors

greatly help to enhance animation quality, hone skills, and refine attention to detail. They have a keen eye for mistakes and can meticulously analyze the entire work frame by frame.

Also, there are specialized

forums

for animators, where you can ask questions. Although I haven't explored them myself, this option is certainly available.

Of course, you can independently learn the software through manuals and

YouTube tutorials

as well, but I believe that together with a teacher or a team lead, the process is always more efficient."
Wrapping Up
Bohdan, a programmer who joined us in 2020, has some clear advice for everyone on the team: "Read professional literature, keep up with what's new in your field, and avoid burning out." 
We totally agree. People who've been in one job for a while can burn out suddenly. So, if you're feeling less motivated, disconnected or unsure, recognize it's burnout and don't let it mess up your game dev career.
We wish you success at work, no matter what role you're in. We believe that people are capable of everything when they have goals. If you've got one, you'll succeed for sure!
And if you're looking for something that will help you boost your creative career, check out job opportunities for experienced specialists at VG Entertainment. Join us and work on a AAA first-person shooter based on a brand-new IP! Our awesome team is ready to combine their expertise and know-how with your knowledge and experience to accelerate progress towards this thrilling goal!

Stay tuned!
Stay tuned!
Stay tuned!
Stay tuned!